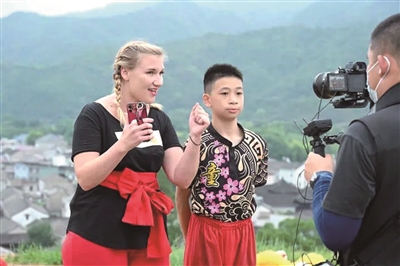 Rachel Lynn Weiss is introducing Zhang Zhenhao and the lion dance . Photo by Zhang Haiyu

  Recently in Qiantong Ancient Town, Ninghai County of Ningbo in east China's Zhejiang Province, Lü Qianqian (Lucy) – overseas internet influencer – and Rachel Lynn Weiss from America shot a Chinese lion dance video and shared it globally via the livestreaming platforms of China Global Television Network (CGTN).
  不久前,在宁波宁海县前童古镇内,外籍华人吕倩倩和美国籍人士Rachel Lynn Weiss站在相机前,把古镇的舞狮表演通过CGTN的多个直播平台展示给全球网民。
  On September 4th, Hua Chunying, the Chinese Foreign Ministry Spokeswoman , retweeted their video, commenting: "Wonder how lion dance is performed? This young man shows you some basic moves inside the dancing lion costume. Very special, isn't it?"
  9月4日,外交部发言人华春莹发推文:舞狮是如何表演的?这位年轻人展示了狮衣下的一些舞狮基本动作。很特别,不是吗?
  In the video, 13-year-old Zhang Zhenhao showcased a rehearsal without wearing a lion head costume and a stage performance in full costume. The video received many 'thumbs-up' and was forwarded by netizens worldwide. Zhang has been learning the lion dance for nearly 3 years and won first prize at the Zhejiang Dragon and Lion Dance Championships for two consecutive years.
  视频中,13岁的张镇浩从不戴狮头的练习到戴着狮头的表演,获得全球网友纷纷点赞转发。张镇浩练习舞狮近3年,已连续两年获得浙江省龙狮锦标赛一等奖。
  The Qiantong lion dance in Ningbo has a long-standing tradition dating back to the 18th-century Qianlong reign during the Qing Dynasty (1644-1911). However, this folk dance was a dying art form since the mid-20th century. It was not until the Lantern Festival in February 2016 when the dance popped into the view of local villagers again. The revival of the lion dance culture in Qiantong Ancient Town can be credited to a native youth, Tong Panfeng.
  宁波的前童舞狮历史悠久,最早可追溯至清代乾隆年间。因种种原因,前童舞狮在20世纪中叶逐渐没落。直到2016年的元宵行会上,才重新"闯进"前童乡亲们的视野。舞狮文化在前童镇的复兴,离不开一个土生土长的古镇青年——童攀峰。
  By coincidence, Tong was inspired to revitalize the lion dance culture upon learning that his grandfather had been a member of the former Qiantong lion dance team. He learned the art of lion dance by traveling across Shandong and Anhui provinces, the Guangxi Zhuang Autonomous Region, and other places in 2015. After returning to Qiantong, Tong decided to promote the dance.
  一次机缘巧合,童攀峰得知自己的爷爷曾是前童狮子班的一员,他便想恢复舞狮文化。2015年,他辗转山东、安徽、广西等地,学习舞狮。学成归来后,童攀峰便想推广舞狮。
  With the support of the local authorities and Qiantong Town Central Elementary School, Tong established the "Dragon and Lion Dance Team of Qiantong Central Primary School" as an extracurricular course and formally recruited young students in 2017. Every Thursday afternoon and weekend, young boys and girls could be seen practicing the lion dance on the school's playground, in the yard of the town's ancestral hall, and on the hills outside the town. Running, martial-art squats, push-ups, and footwork routines are all part of the lion dance, which requires not only practical movement skills but also strong physical fitness and volitional characters.
  2017年,在前童镇政府和前童镇中心小学的支持下,童攀峰以课外兴趣班的形式成立了"前童中心小学舞龙舞狮队",正式招收青少年学生开班教学。每周四下午和周末,学校里、古镇的祠堂里、镇外的山坡上有了一群舞狮少年的身影。跑步、扎马步、做俯卧撑、学习步法程式,舞狮考验的不仅是动作技巧,更是体能和意志。
  The children who insisted on training over the past few years were all hard working, undergoing tears and injuries. It is not uncommon to see young members who failed to try out for the tournament after a two-year preparation continue with their practicing. Tong Panfeng said, "The spirit of the dragon and lion characterized by self-reliance, courage, propriety, and loyalty also has a bearing on shaping children's characters. This is the charm of the fine traditional Chinese culture."
  几年下来,坚持训练的都是肯努力的孩子,每一个都流过泪、受过伤,也有学了两年都没能被选中参赛却依然坚持训练的。童攀峰说。"龙狮精神是自强、奋勇、崇礼、忠义,对塑造孩子性格也有影响,这就是中华优秀传统文化的魅力。"
  Recent years have witnessed admirable achievements of the lion dance team in provincial and national dragon and lion dance championships. "You'll never get tired of doing what you love," added Zhang. For him and his young team members, the lion dance is not just a novel sport but a cultural tradition embedded in their DNA.
  近年来,古镇舞狮队多次在全国和全省的龙狮锦标赛上取得佳绩。"做喜欢的事永远都不会累。"张镇浩说。对他和小伙伴而言,舞狮已经从一项新奇的运动变成刻在他们骨子里的文化传统。
  Reporter: Zhang Haiyu
  Correspondent: Xu Mingyi
  Translator: Mei Jie
  Proofreaders: Huang Dawang, Fan Yeping, Jason Mowbray