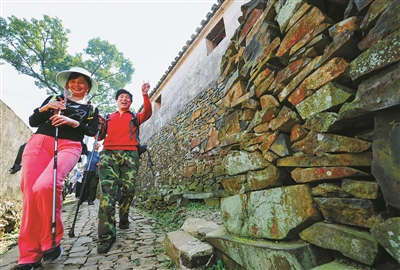 Xujiashan Village./许家山村。[Photo by Yan Long]严龙摄
  By Dong Na
  In the mountains in the eastern part of Ninghai County, there is a "stone house village" called Xujiashan Village. In 2010, the village was named a "Famous Chinese Historical and Cultural Village" in the title's fifth awarding round. It is the largest and best-preserved village of stone dwellings in Ningbo and a typical example of the stone architecture style in eastern Zhejiang's mountainous coastal areas.
  在宁海县东部的大山里,坐落着一座"石头村",唤作许家山村。许家山村在2010年获评第五批"中国历史文化名村",是宁波现有建筑群规模最大、保存最完整的石屋古村,也是浙东沿海山地石屋建筑群落的典范。
  Unlike other villages, most houses in Xujiashan Village are made of black basalt, which is unique to the area. The village has not only many intact stone homes, stone walls, stone alleys, stone bridges, stone-paved roads and stone benches, but also traditional ways of life: plowing the fields with oxen, making flour with sweet potato, making rice cakes by manual pounding, and crafting bamboo wicker objects.
  和一般的水乡村落不同,许家山村中绝大部分是石屋,均以当地特有的黑色玄武岩堆垒而成。村内不仅保存着完整的石屋、石墙、石巷、石桥、石路、石凳等,同时还延续着传统的生活方式,如牛耕田、制番薯粉、捣年糕、做竹编等。
  Xujiashan's cluster of well-preserved, distinctive historical buildings creates potential for the village to become a destination for rural tourism, cultural exchange, wellness, recreation, and sports.
  许家山村现存古建筑群格局完整,特色鲜明,可打造成具有石村特色,集山村体验、文化交流、疗养度假、休闲运动等功能为一体的山村休闲旅游区。