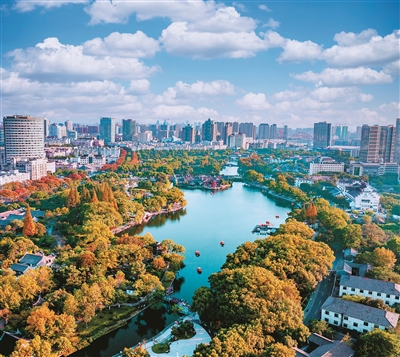 Aerial view of Moon Lake. [Photo by Xin Zhicheng]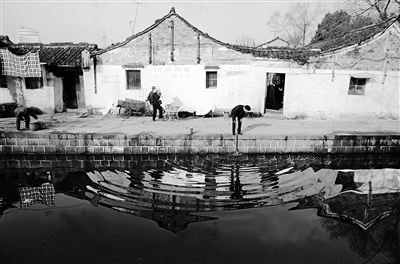 Lakeside residents, 1997. [Photo by Shen Yiming]
  By Gou Wen
  Since its excavation in AD 636, Ningbo's Moon Lake (Yuehu) has been a quintessential landmark and the epitome of the city's cultural vibe. As the saying goes, "half of Ningbo's history took place on the shores of Moon Lake."
  What is Moon Lake like in citizens' hearts? We spoke to three citizens who each has a poignant personal story about their love for the beautiful Lake.
Shen Yiming:
In 1997, I took
thousands of photos
around Moon Lake
  My name is Shen Yiming. I am in my seventies. I am the honorary chairman of the Ningbo Photographers Association.
  I was born and raised in Ningbo. My childhood home was near Chenghuangmiao (the City God Temple), within sight of Lingqiao Bridge and Tianfeng Tower. Although my home was not far from Moon Lake, I did not go there often when I was a student, except for one spring trip in middle school when we all went boating on the Lake. At that time, the rivers and streams crisscrossing the city were still interconnected, and the water was very clean.
  It wasn't until the 1990s that I began exploring the areas around Moon Lake in earnest, this time with camera in hand. In those years, the old downtown area of Ningbo was undergoing renewal. Many residents had to move out of their old dwellings to newer neighborhoods. I wanted to use photography to capture the most authentic lifestyles in the old urban centers of eastern Zhejiang.
  In 1997, I rode my bike up and down Yanyue Street, Huizheng Lane, and other alleyways near Moon Lake whenever I had spare time, taking thousands of pictures of ordinary residents going about their day.
  People and their ways of life always feature most prominently in my photos, much more than the buildings they live in. In summer evenings, residents would set up rattan chairs and bamboo beds out on the street, in the cool open air. Children would gather around old people, listening to their stories. Now, these scenes are part of our fond memories of how the area used to be.
Xu Jufen:
My "Personal
Lakeside Garden"
  I am Xu Jufen, and my home is on Yunshi Street, just 150 meters east of Moon Lake.
  I was born here in November 1954 and grew up on the banks of Moon Lake. Then, I moved when I got married…to a man who lived on the north shore of Moon Lake!
  For more than 60 years, my entire life, I have been close to Moon Lake.
  So many of my childhood memories were formed here. In the summer, I would go to the Lake with my brother, who would jump into the water and splash around with the other boys. There were many rock gardens and bamboos groves around the Lake, where we often played hide and seek.
  In those days, people took their bedsheets and other large items to the waterfront stone landings and washed them in the Lake. In winter, every family made preserved vegetables. Bundles of fresh vegetables were sun-dried, then carried to the waterside to be rinsed.
  In my heart, Moon Lake will always be a part of my home, almost like a private garden. Every time the landscaping around the Lake is renewed, I feel as if my home is being redecorated. I hope the Moon Lake continues to maintain its cultural significance and stays beautiful forevermore.
Feng Yong:
Two Generations'
Memories
  I am Feng Yong, a Ningbo native. I grew up in Haishu District and went to Haishu Central Primary School, not far from Moon Lake. Moon Lake is deeply etched in my childhood memory, because there used to be a children's amusement park near the Lake, where we would go every year on Children's Day.
  In the 1990s, my parents moved to a housing complex very close to Moon Lake. We witnessed the demolition of old homes along Zhenming Road to make space for a new lakeside park. Some years later, my daughter was born. She grew up in my parents' home and spent her entire childhood playing in the park on the south side of the Lake. She knows the park as well as the back of her hand. She and her friends would run around in the flower bushes, fly kites, fish, and have snowball fights as we adults sat around on the lawn chatting, only going home when the sun had set.
  Moon Lake holds childhood memories for myself and for my daughter. Starting in April 2019, I spent nine months taking pictures around the Lake and wrote twelve essays about the Lake's notable sights. It is both a memoir and my love letter to Moon Lake.