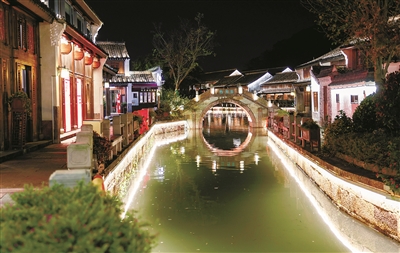 Hanling Old Street. /韩岭老街。[Photo by Tang Yan]唐严摄
By Gou Wen
One of its kind and located on the south bank of Dongqian Lake, the Hanling Village is a well-preserved ancient water village in eastern Zhejiang. Hanling has a long history of being an important transportation hub and land-sea transfer center that connects Ningbo city and Xiangshan port.
韩岭位于东钱湖南岸,是一个保存完好的典型浙东水乡古村。其历史源远流长,曾是宁波市区连接象山港的重要交通枢纽和水陆转运中心。
In the village, you can find the Hanling Old Street which leads up to the Lake and is surrounded by mountains, allowing tourists to fully enjoy the beauty of mountains and lakes.
韩岭老街就坐落于此,三面环山,一面临湖,游人在此可尽揽钱湖南岸湖光山色。
Now, Hanling is turn into an art block with unique attractions, such as various exhibitions and on-site performances. The most recently opened exhibition is titled "Jiasheng", meaning born at home, and the performance also themed "home". Moreover, the Hanling Art Museum under construction will be the "culture port" of Ningbo in future.
如今的韩岭已经成为独特的艺术街区,不仅有各式展览和实景演出,如最近的开设的"家生"展览,以及以"家"为主题的实景演出。
而正在建设中的韩岭美术馆,在今后将会成为宁波的"文化码头"。